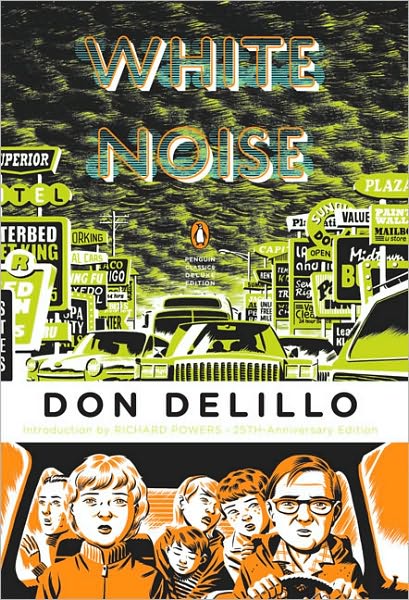 (From Barnes & Noble)
Winner of the National Book Award, White Noise tells the story of Jack Gladney, his fourth wife, Babette, and four ultramodern offspring as they navigate the rocky passages of family life to the background babble of brand-name consumerism. When an industrial accident unleashes an "airborne toxic event," a lethal black chemical cloud floats over their lives. The menacing cloud is a more urgent and visible version of the "white noise" engulfing the Gladneys - radio transmissions, sirens, microwaves, ultrasonic appliances, and TV murmurings - pulsing with life, yet suggesting something ominous.
(From Barnes & Noble)
Growing up in his working class Bronx neighborhood in the 1940s and '50s, Don De Lillo was far more interested in sports than in books. A listless student, he did not develop an interest in reading until he was 18 and working a summer job as a parking attendant. Desperate to fill in the long, boring hours of downtime, he discovered the literature of Faulkner, Joyce, and Hemingway. He attended Fordham University and worked in advertising for several years before seriously pursuing a writing career.
When De Lillo's first novel, Americana, was published in 1971, it received modest reviews. Seven books followed over the next 14 years, steadily generating more critical praise but few sales. Then, in 1985, he hit pay dirt with White Noise, a brooding postmodern masterpiece about a Midwestern college professor and his family in the aftermath of an airborne toxic accident. It proved to be De Lillo's breakthrough, earning him both a National Book Award and an avid cult following.
Since then, De Lillo has gone on to produce a string of superb "literary" novels that fairly brim with big ideas yet also capture the essence of contemporary culture in all its infuriating banality. Cited by younger writers like Jonathan Franzen and David Foster Wallace as a major influence, De Lillo remains a reserved and private, albeit gracious and genteel man who seems a bit uncomfortable with fame.
Among the many honors De Lillo has received are the Irish Times/Aer Lingus International Fiction Prize for Libra (1989); the PEN/Faulkner Award for Fiction for Mao II (1991); and the Jerusalem Prize, William Dean Howells Medal, and the Riccardo Bacchelli International Award for his magnum opus Underworld (1997). In addition, three of his novels received high marks on a 2006 survey sponsored by The New York Times to name the single best work of American fiction of the last 25 years.